Model Car Display Cases for your Favorite 1/18 cars
Knowing that diecast cars come in all different styles, shapes, and sizes, we made our case extra spacious to fit most cars that are scale 1/18. In our opinion, the case shouldn't just fit the model cars but it should provide some nice margin around your car model to bring harmony, balance, and a soft focus to the car.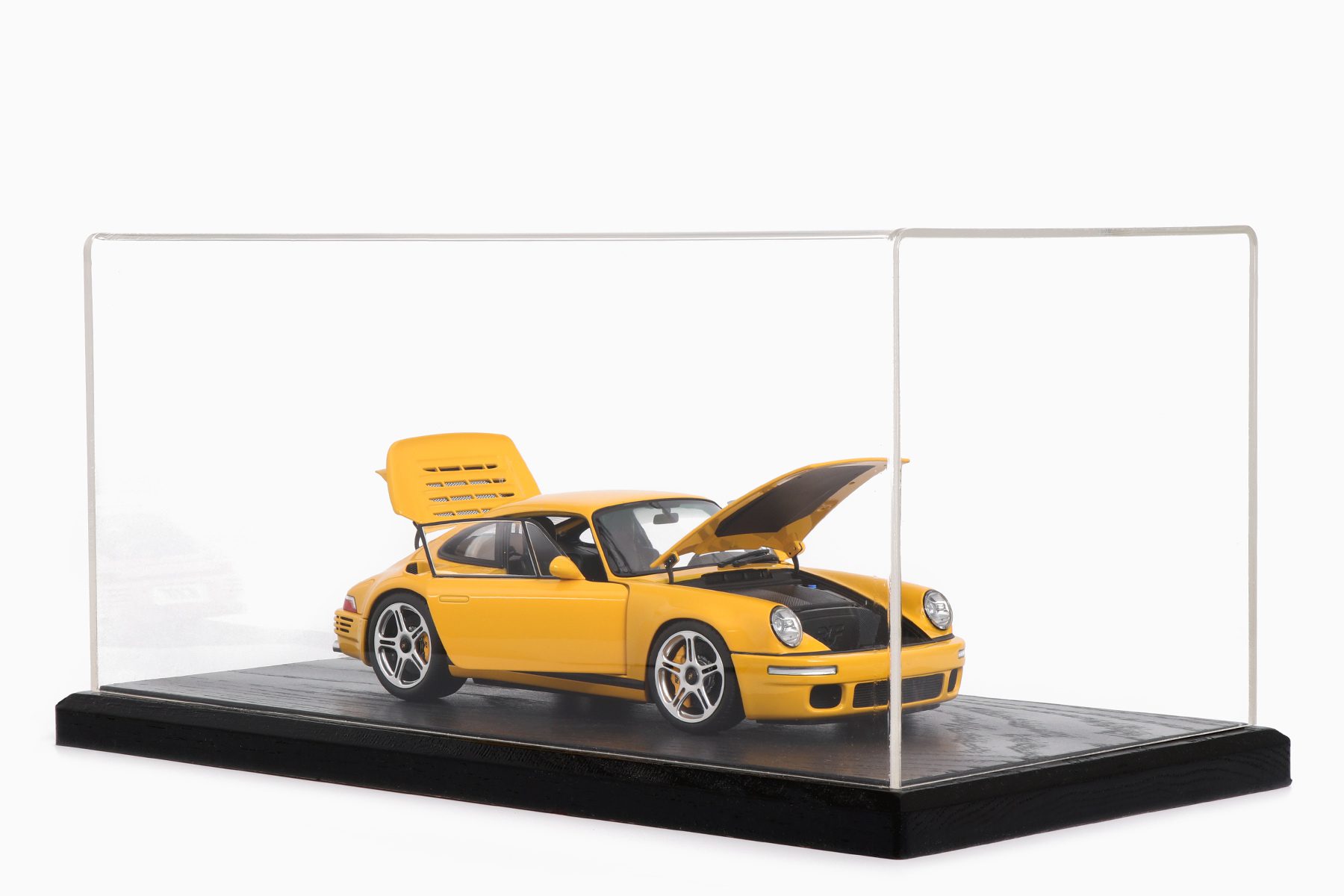 Interior Dimensions for our diecast car display cases
We weren't happy with the lack of good display cases for our own personal model cars, so decided to make our own! The inside dimensions are around 13.75 long x 7 wide x 6.3 tall. The case is designed to provide a roomy margin around the model car to create a stunning presentation. Our display case is built to be strong and durable, with the oak wood base providing a sturdy foundation and the clear acrylic glass providing the perfect showcase for your model car collection.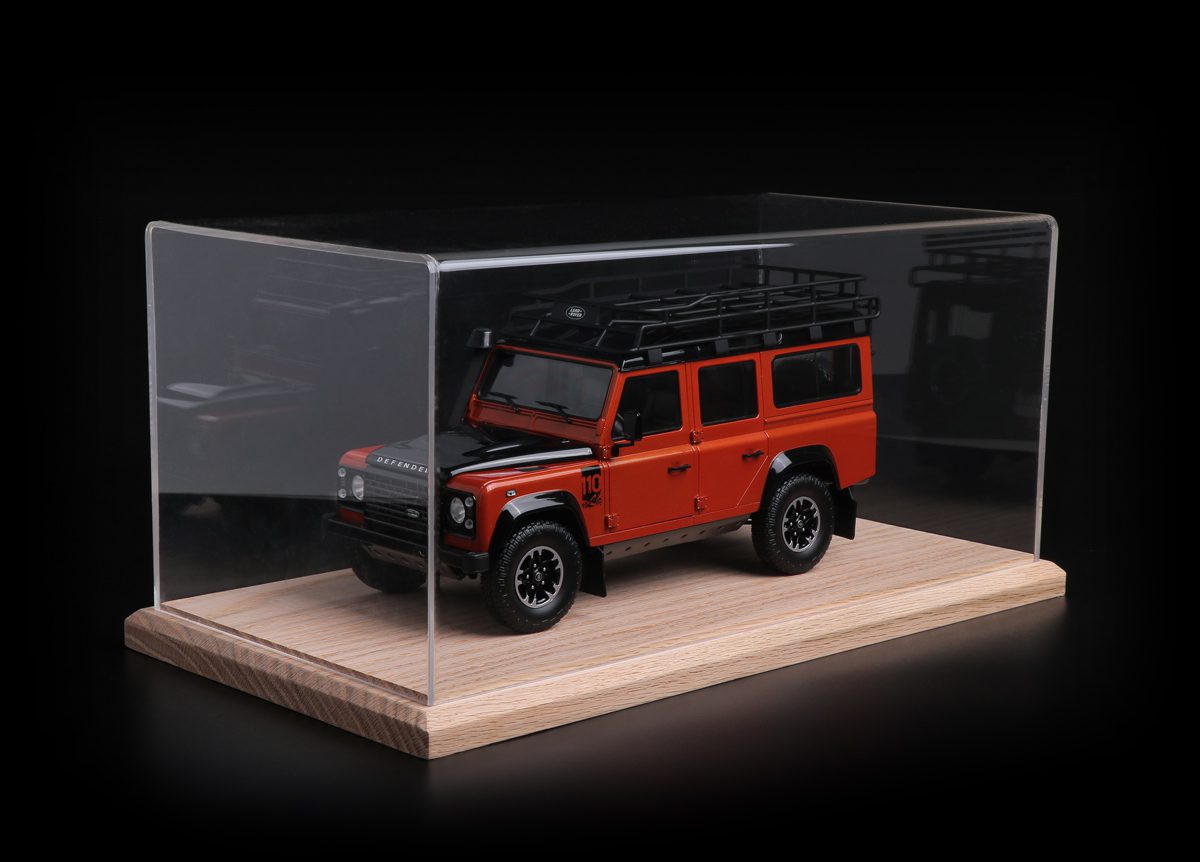 Model Car Display case with crystal clear acrylic top
These display cases are made to fit most model car sizes 1/18 or under, making it easy to switch out different models. Meeting your needs for acrylic display cases for diecast model cars, including AUTOart, Almost Real, CMC Models, Hot Wheels, and NASCAR diecast as well as Formula 1 cars. Although our acrylic display cases have found their niche protecting and displaying diecast cars and trucks, we also make display cases for trains, models, and all sports collectible memorabilia.
Please note that the car is not included.
$85.00Add to cart
Black-painted oak wood base with crystal clear acrylic top.
Please note that the car is not included.
$85.00Add to cart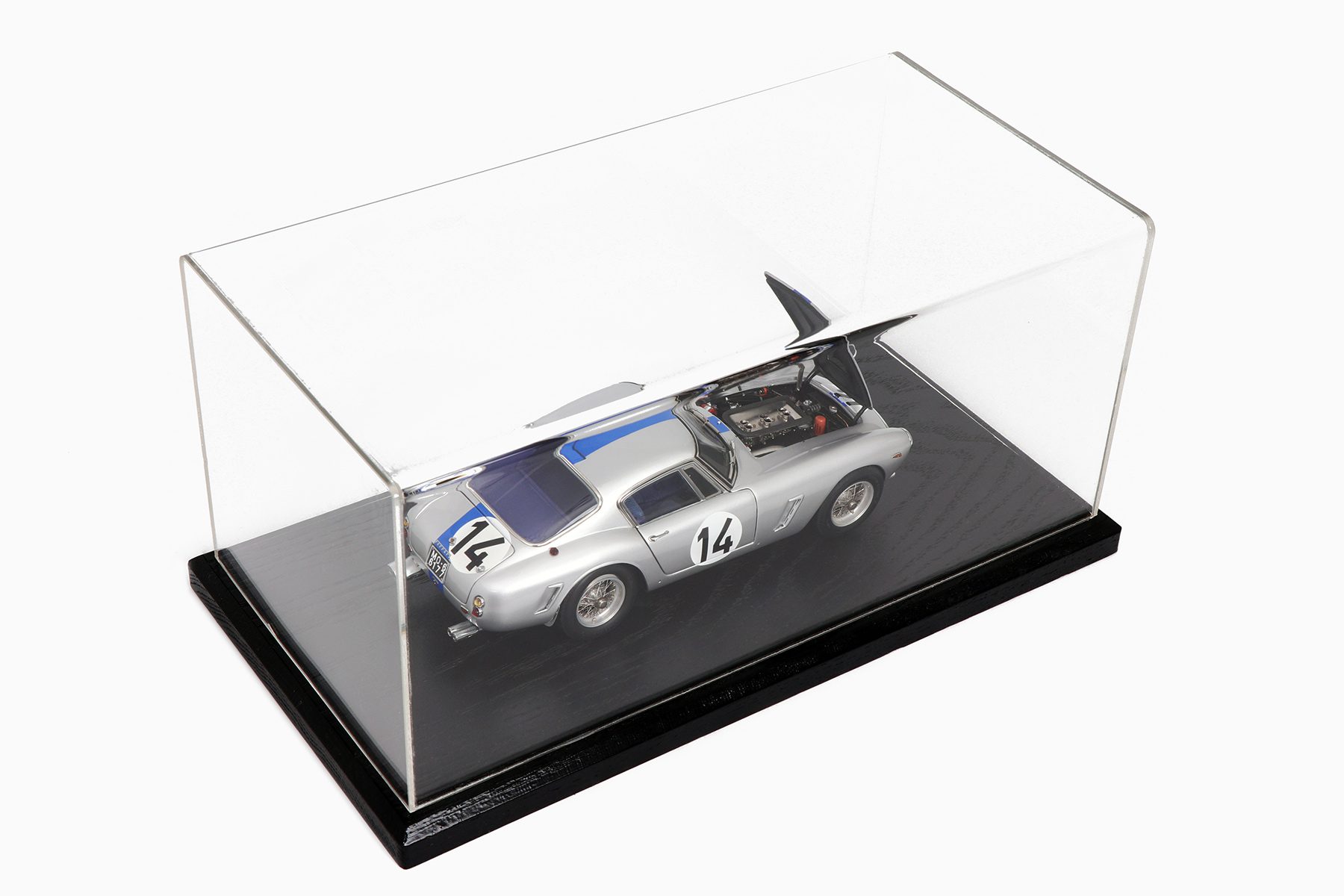 Benefits of using Diecast car display cases
The acrylic glass top ensures that your car is protected from dust and keeps the car looking pristine. Our oak wood is locally sourced from Idaho and is treated with the best wood sealer protection to keep scratches away and help the wood keep its beautiful look for many years ahead.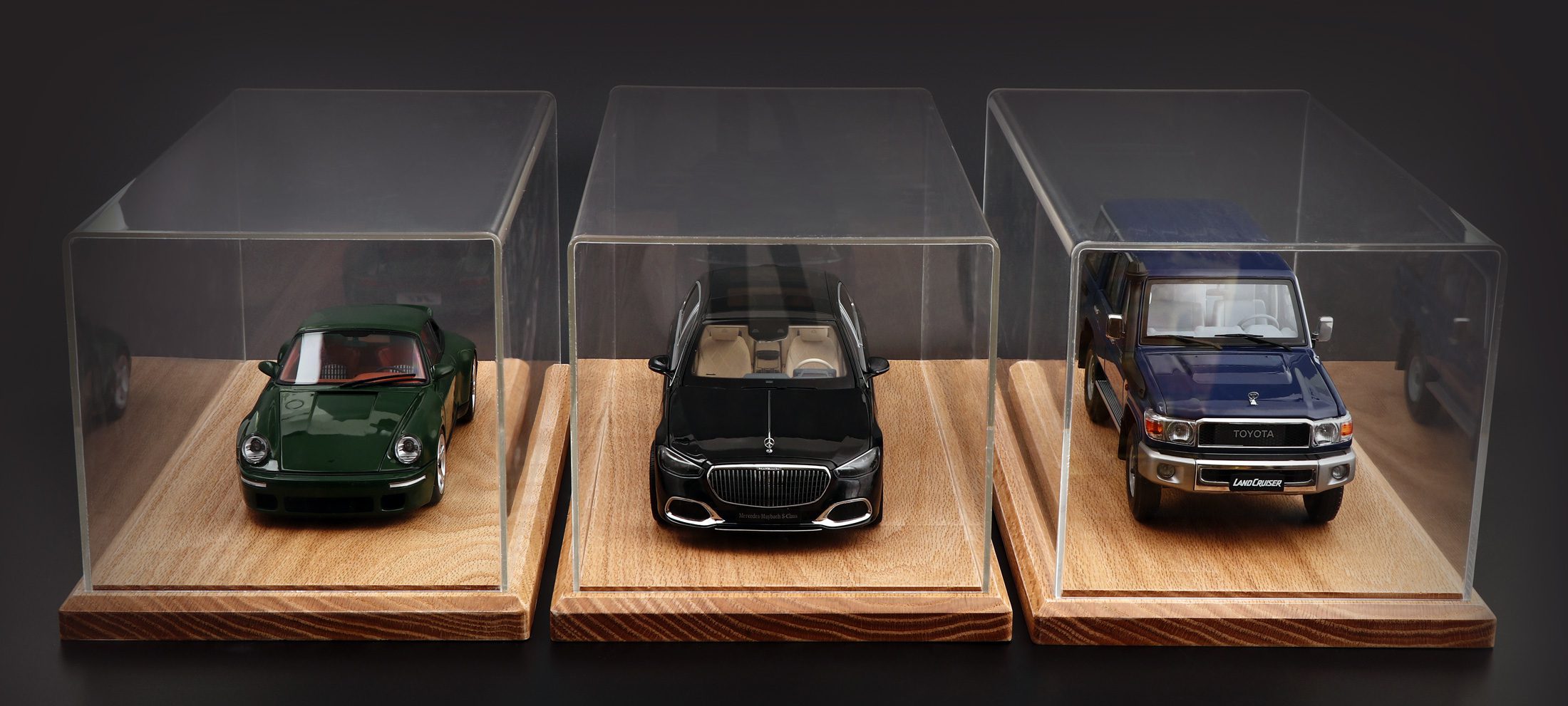 Frequently Asked Questions
Q: Is it possible to use your diecast display case for other collectibles?
A: Absolutely! While we designed them for the model car collection, we found they could also work great for collectibles like model airplanes, figurines, or memorabilia.
Q: How do you keep these display cases clean?
A: The acrylic case on our display cases is easy to keep clean, and customers simply use a soft, lint-free cloth to gently wipe down the surfaces. The wood base uses a high-quality top coat for protection against scratches, dust, and damage.
Q: Is it possible to order black or choose another color for the wood base?
A: Right now we offer the wood base in either a natural red oak finish or red oak painted black. We hope to expand our selection in the near future.
Q: Do I need to assemble the diecast display case myself?
A: No, all you need to do is place your precious model car on the wood base. cover it with the acrylic glass and start admiring it!
Q: Is it possible to display your products on the wall?
A: No, the display cases for products we offer are meant to be placed on a table or shelf. We hope to introduce a wall-mounted display case in the near future.
Q: How do I buy your products?
A: You can buy our display case by clicking here.
Q: Will my model car fit, what are the dimensions of the display case?
A: The interior dimensions of our display case are approximately 13.75 long x 7 wide x 6.3 tall. We came to the conclusion that this provides an ideal airy margin around most model cars for a full view and great presentation without making it excessively large.
Q: Can I display my models with open doors, hood, and trunk in your display case?
A: Yes, our larger model car display case is designed to accommodate the most popular scales such as 1/18, 1/24, and 1/43 diecast models with the option to display them with open doors, hood, and trunk for added visual appeal.
Q: What materials are the display cases made from?
A: Our model car display cases feature a solid red oak wood base and a crystal clear acrylic top, ensuring durability, stability, and an unobstructed view of your model car collection.