Ferdinand Porsche created something entirely new with the Auto Union Type C racecar. Not only did it overthrow Mercedes-Benz in the 1930's Grand Prix but it stamped its authority on world racing.
The story of the Auto Union Type C begins at the Great Depression. The economic growth of the 1920's suddenly shriveled with the Wall Street Crash of 1929. While Ferdinand Porsche was acclaimed for his automotive engineering talent, the commissions for automobiles dried up and his position as Technical Director at Steyer was eliminated. Determined not to let financial challenges stunt his ambition, Porsche started his own company with some of his former associates.
Meanwhile,  in 1932 Auto Union was formed, comprised of four auto companies, Audi, DKW, Horch, and Wanderer, that came together to ride out the depression through combined resources and increased purchasing power. The chairman of the board of directors at Auto Union believed they needed a special showpiece to bring attention to the new firm. Wanderer had connections with Ferdinand Porsche, so they reached out to Porsche to design a new racecar while still in need of cash to fund the development.
Coincidentally, Adolf Hitler, the newly appointed Chancellor of Germany had promised to boost the German car industry and had intended to sponsor Mercedes-Benz in the development of a new "people's car."  Porsche was able to convince the Chancellor that two programs were better than one, and the government funds were split between Mercedes-Benz and Auto Union. At this, a great rivalry began between the two firms, and Porsche's team went to work designing the low, mid-engined engineering spectacle called the Auto Union Type C —a special car with a permittedly, infamous place in history.
The race car was designed to provide optimum torque at low speeds, featured state of the art independent suspension, and the body was carefully crafted to ensure efficient cooling and superior aerodynamics. The 1,618 lb monoposto was capable of 150 MPH.
THE FACE OF COURAGE: BERND ROSENMEYER IN THE TYPE C 1936 NÜRBURGRING, #18
While efforts had been made to distribute weight evenly, the heavy engine compared to the chassis and body left 60% of the weight on the rear wheels. The high power to weight ratio, uneven weight distribution, and Porsche's uniquely designed suspension system made the car prone to oversteer. This behemoth required the highest sensitivity and absolute best racing talent. The young Bernd Rosenmeyer was the man for the job.
In June of 1936, Bernd Rosenmeyer competed for Auto Union in the famous 228 km (142 miles)  Eifel race at Nürburgring. A heavy fog settled in, and visibility was less than 20 meters (22 yards), but the fearless Rosemeyer kept charging at full speed ahead, relying on his route memory and competitive spirit. To everyone's astonishment, Rosenmeyer won that day and went down in history as the "Fog Master."
TYPE C 1936 DOMINATES DIECAST LIKE THE ORIGINAL DID THE RACE TRACK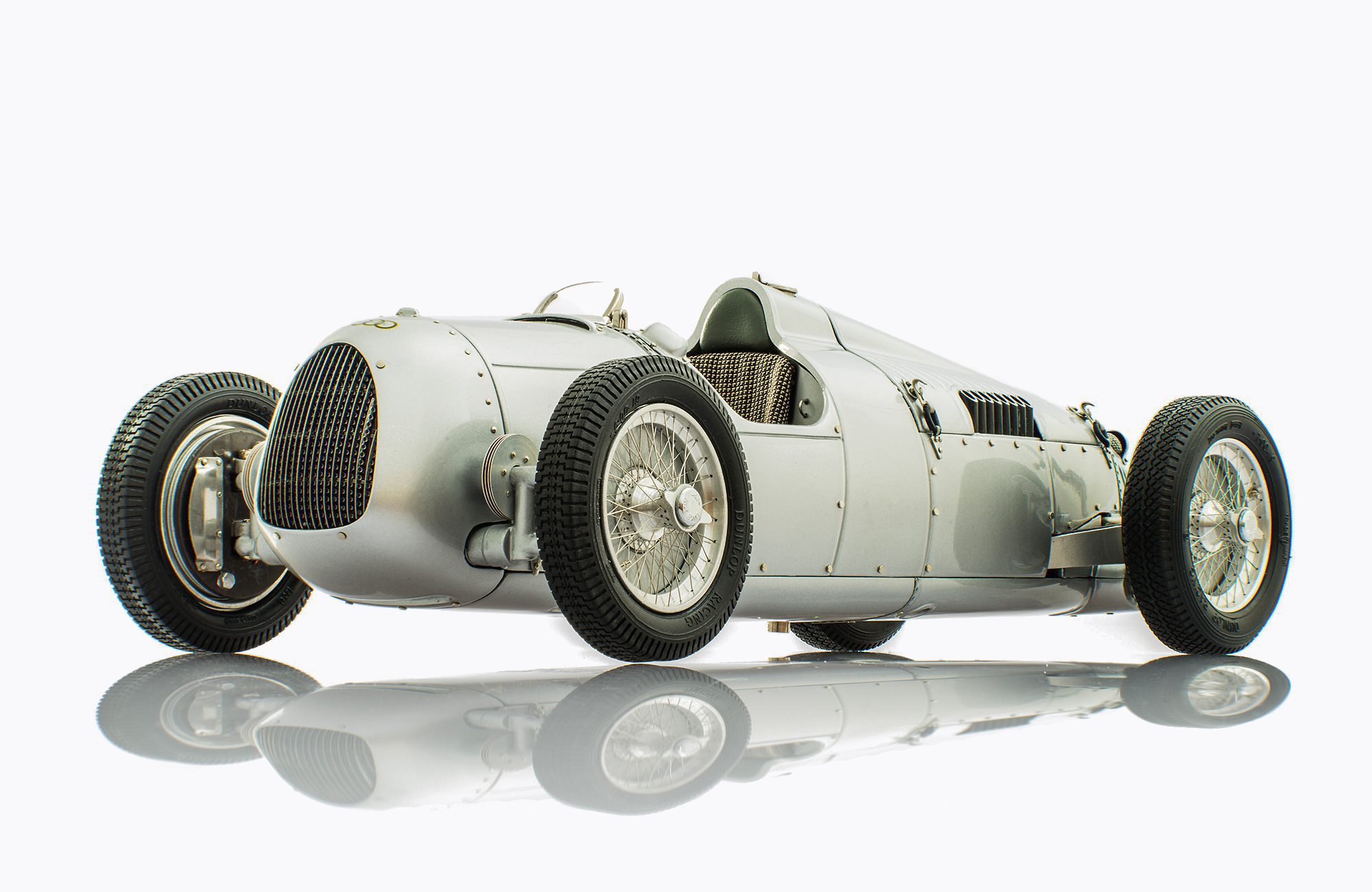 While this CMC model car is small in scale, your expectations should be anything but small for this 1:18 limited edition (1,500) model of Rosenmeyer's  Type C . Its body is beautifully shaped with hand-mounted precision, and no detail has been overlooked in this miniature reproduction. The Type C is streamlined and smooth with silky paintwork, featuring Rosenmeyer's starting number 18 printed on the exterior via pad printing and even the imprint "Bernd" on the outside of the cockpit on the front right side. More detail? The engine hood lifts off by releasing rubber O-rings that serve as locking hooks and reveal the 16 cylinder V-type engine —complete with all the aggregates, pipes and cabling. The windscreen is movable. The simple yet historically accurate cockpit is outfitted with a  textile upholstered driver seat and Rosemeyer's signature steering wheel design that features round disks riveted on the spokes. The stainless steel fuel tank cab is movable and the gearshift is fully functional with a metal switch guide plate. We could go on, but have a look for yourself, and check out this beautiful model crafted from 1,203 parts here.
A HAIR RAISING VICTORY: HANS STUCK IN THE TYPE C 1937 GERMAN HILLCLIMB #111
In August of 1937, the Grand Prix teams gathered at Schauinsland Mountain, Germany to race an incredibly steep and treacherous track. A task like this would require not only a powerful engine but supreme skill and concentration. With all eyes on the top two racing teams: Auto Union with Hans Stuck and Bernd Rosemyer and Mercedes-Benz with Rudolf Caracciola, Manfred v. Bauchitsch and Hermann Lang, Auto Union commanded the lead, and Hans Stuck drove his Auto Union Type C #11 to a sensational victory and just one second ahead of his team made Bernd Rosemeyer.
TYPE C 1937: A REMINDER ON  HOW BEAUTIFUL SIMPLICITY CAN BE
This CMC limited edition (1,500) of Hans' Stuck  Type C driven at Schauinsland Mountain is another excellent example of how detailed a 1:18 diecast model can be.  While racecars were simple looking in the 1930's compared to today's multi wing, broad, ground hugging predatory stance, the Type C was elegant and sleek. This stellar recreation features the same nitpicky details and high level of functionality as the one above. The car features a dual exhaust system made of metal, a crank-arm front suspension with friction-shock absorbers, a rear axle with oscillation dampers, a handcrafted radiator grill of stainless steel with a detailed cooling system and oil/fuel delivery lines. Our favorite feature of this model? True to history, the model is fitted with powerful twin rear wheels in order to gain maximum traction on the aggressive hillclimb. 
What are your favorite models by Ferdinand Porsche?