Clearly, statistics aren't the ultimate proof for determining a racing driver's worth. When Juan Manuel Fangio retired in 1958, Stirling Moss was "The Man"—and everyone knew it. This British racing icon, learned his craft alongside Fangio and became the Argentinian's main rival. After Fangio, there was no question to who was best. Moss was talented, brilliantly versatile, and consistently got the most out of every car he drove.
His greatest triumph was when he won the 1955 Mille Miglia winning a new record time and beating Fangio by half an hour. Many consider Moss the greatest driver never to win the World Championship. We couldn't agree more. He was not only remarkably skilled but a rare man of character. When his rival, Mike Hawthorn, faced an unjust penalty that would deny him the points needed to beat Moss, Moss defended him, costing himself the 1958 World Championship. Such is the measure of a man who shows real sportsmanship.
Check out these CMC automotive miniatures which capture the essence of the originals driven by the talented Sir Stirling Moss.
CMC Maserati 250F 1957

Debuting in 1954, the new and improved Maserati monoposto's career spanned a golden era of Grand Prix racing. The 250F wasn't just agile and powerful but flattered the driver with its super-cool form.  It was a car that greats like Stirling Moss could make dance. In fact, Moss started his frontline F1 career in a Maserati 250F, and according to him it was the best front-engine F1 car he ever drove.
CMC Maserati Tipo 61 1960 #7
Marrying the 60's marvelous handling ability and bantamweight frame with a more spirited 2.9 liter 4-cylinder engine, the newly beefed up birdcage was capable of nearly 180 mph. While it did not have the greatest horsepower of its day, Moss won the Cuban Grand Prix in 1960 proving that winning is not all about horsepower and raw speed.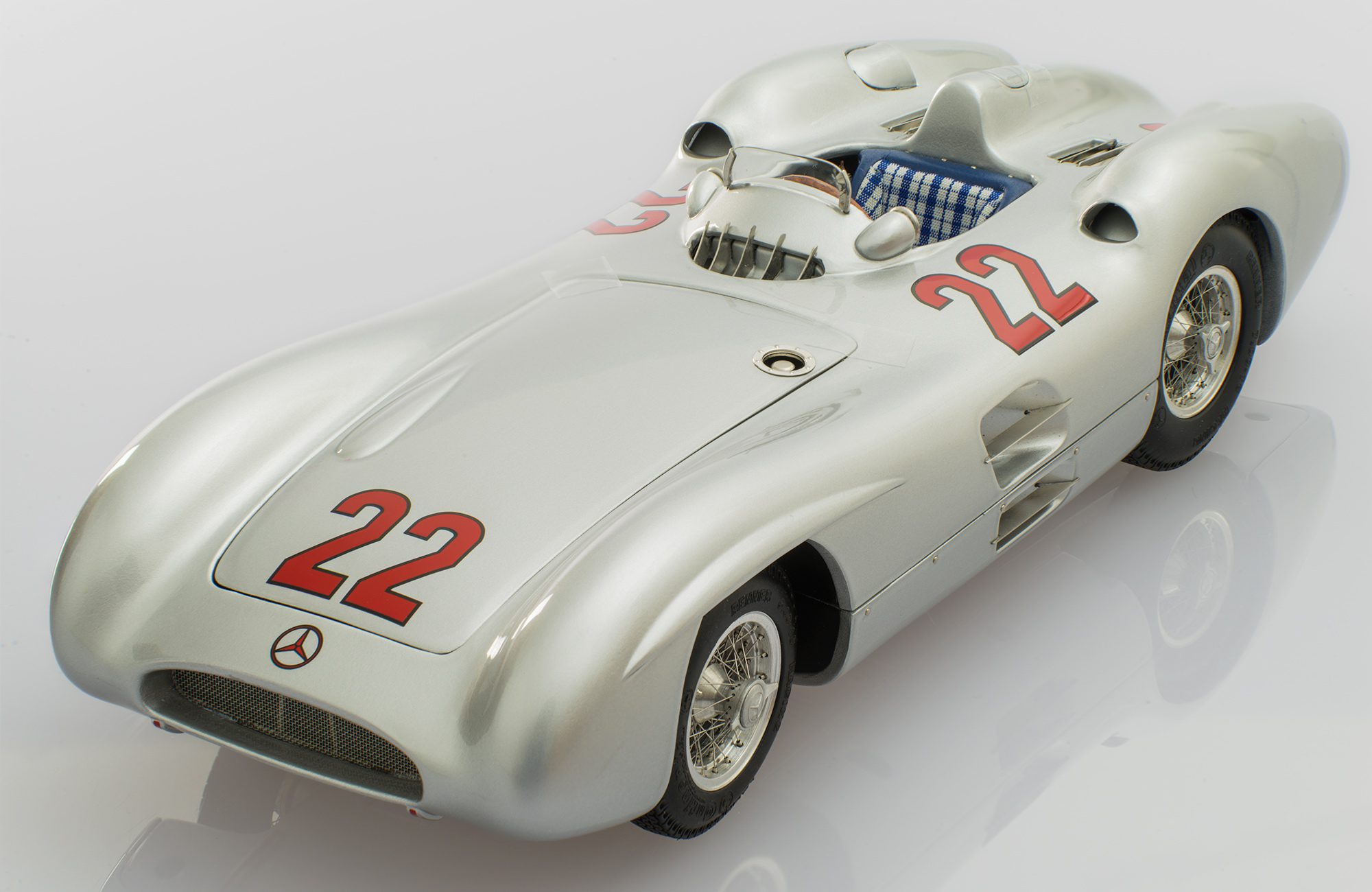 CMC Mercedes-Benz W196 1954/55
The W196 dominated Grand Prix racing in 1954 and 1955. Its revolutionized design  featured state-of-the art technologies that allowed for higher RPM  and  greater engine elasticity. This Silver Arrow launched young Stirling Moss from a young sensation into a title contender in heated races alongside Juan Manuel Fangio.
CMC Maserati 300S 1956
Winning the legendary 1,000km Nürburgring endurance race, the  Maserati 300S was not only success on the race track, but a true hero that brought Maserati success financially on the sales floor. What's more, Stirling Moss considered the 300S one of his favorites.
Where do you place Stirling Moss on the list of all-time greats?
See more diecast cars on our homepage.