Are you on the hunt for a special gift? If words like unique, thoughtful, timeless, surprise, and delight are on your gift giving list, you have come to the right place. The gorgeous diecast cars at MyDiecastCars come flawlessly designed and constructed. They are made with premium materials, meticulous attention to detail, and precise manufacturing.
Not sure which model car to choose?
You know your husband/boyfriend/brother/dad/uncle/grandpa/friend loves cars, but which model car will suit him best? If you're not sure what brand and model he likes most, a safe bet is to select any of the classic cars that are well loved by almost every "car guy." Here are our top four: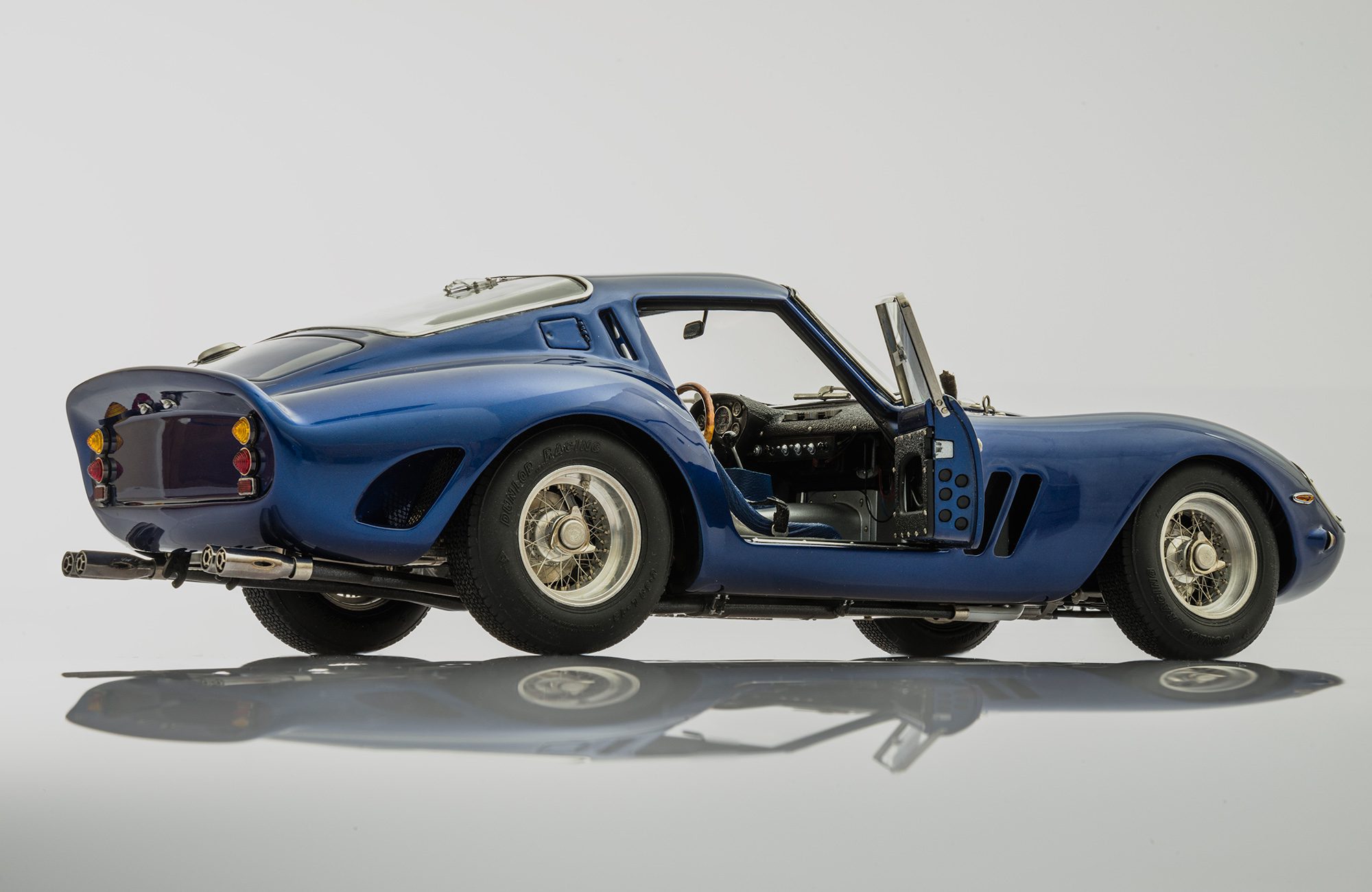 Ferrari 250 GTO
Let's face it, you can't go wrong with a Ferrari. The Scuderia is known for some of the most iconic, the most exotic, and the most desirable cars, and it has the largest following of all car manufacturers. The 250 GTO is considered by many to be the greatest Ferrari ever made, and the recent auction prices concur–the real car fetches over $30 million these days. Luckily, our miniature can be had for less than that, without compromising on quality!
Our Ferrari 250 GTO scale 1:18 is made of 1,841 individual parts, and naturally, everything that should open does open. Doors, windows, hood, trunk, and fuel cap are all functional; in fact, even the covers of the air intakes in the front can be removed. The trunk is equipped with a spare tire, and the the seats with a leather four way safety harness.  The dashboard features glass-covered legible gauges and a wood three-spoke steering wheel, complete with the Ferrari emblem. The V12 engine is a marvel with a spectacular detailed arrangement of wires, pipes, and cables. The metal windshield wipers have rubber blades, the suspension works, and the beautiful wheels with stainless steel spokes and treaded tires can be removed. And to top it off, this flawless number comes packaged in an exclusive red leather box. These models are not being produced anymore, so we recommend you get one while you can.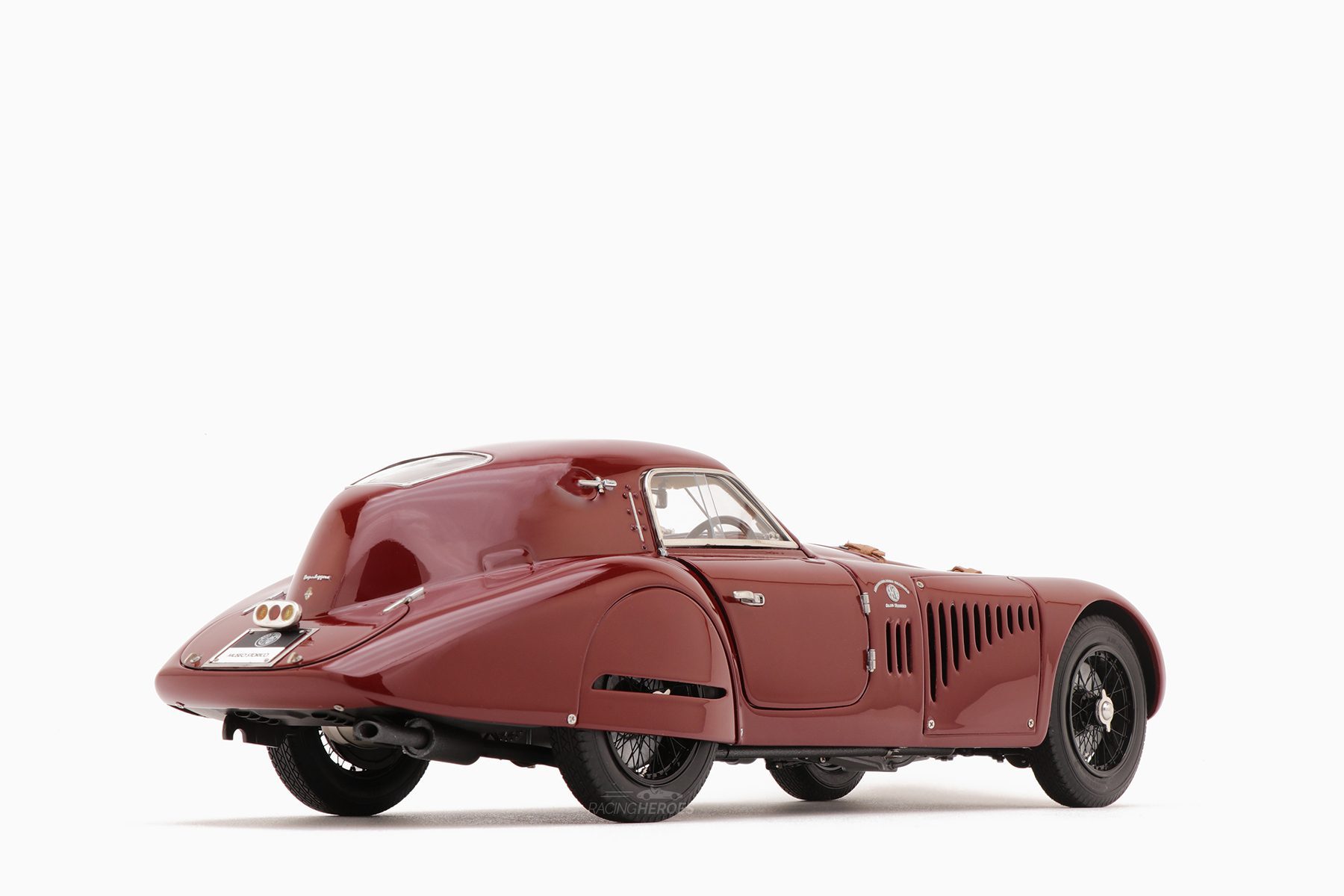 Alfa Romeo 8C 2900B Touring Coupe
It's easy for car enthusiasts to love Alfa Romeos, and it isn't because they are reliable or well built, but simply because they are built with hot-blooded Italian passion and have the persuasive power to charm.
The ultimate Alfa Romeo in our opinion is the beautiful 8C Touring Coupe from 1938. Not only was it Alfa's weapon against Ferrari and Bugatti out on the race tracks, but it featured cutting edge technology such as fully independent suspension and hydraulic brakes. It's lightweight aerodynamic body gave it a superior lead of 160 km at the 24 hour race of Le Mans in 1938 and it would have won if it had not been for a blown out tire.
This sleek and incredibly detailed Alfa Romeo 8C 2900B Touring Coupe captures everything we love about the original, sans the raucous sound produced by the 8 cylinder engine. The silhouette features the beautiful bulbous roof shape, the doors swing open to reveal functional window vents, upholstered brown leather seats, tan carpet-like flooring, a three-spoke black steering wheel with metal hub, and a detailed dashboard with knobs and glass covered dials. But wait, there's more. Functional leather belting holds the center hinged hood in place, the engine bay is a comprehensive package featuring the straight-8 engine and all the wiring and plumbing components, the rear wheel covers are removable, and the trunk features a removable spare tire. This sleek streamlined coupe is certain to elicit delight and grace the shelf of any car enthusiast.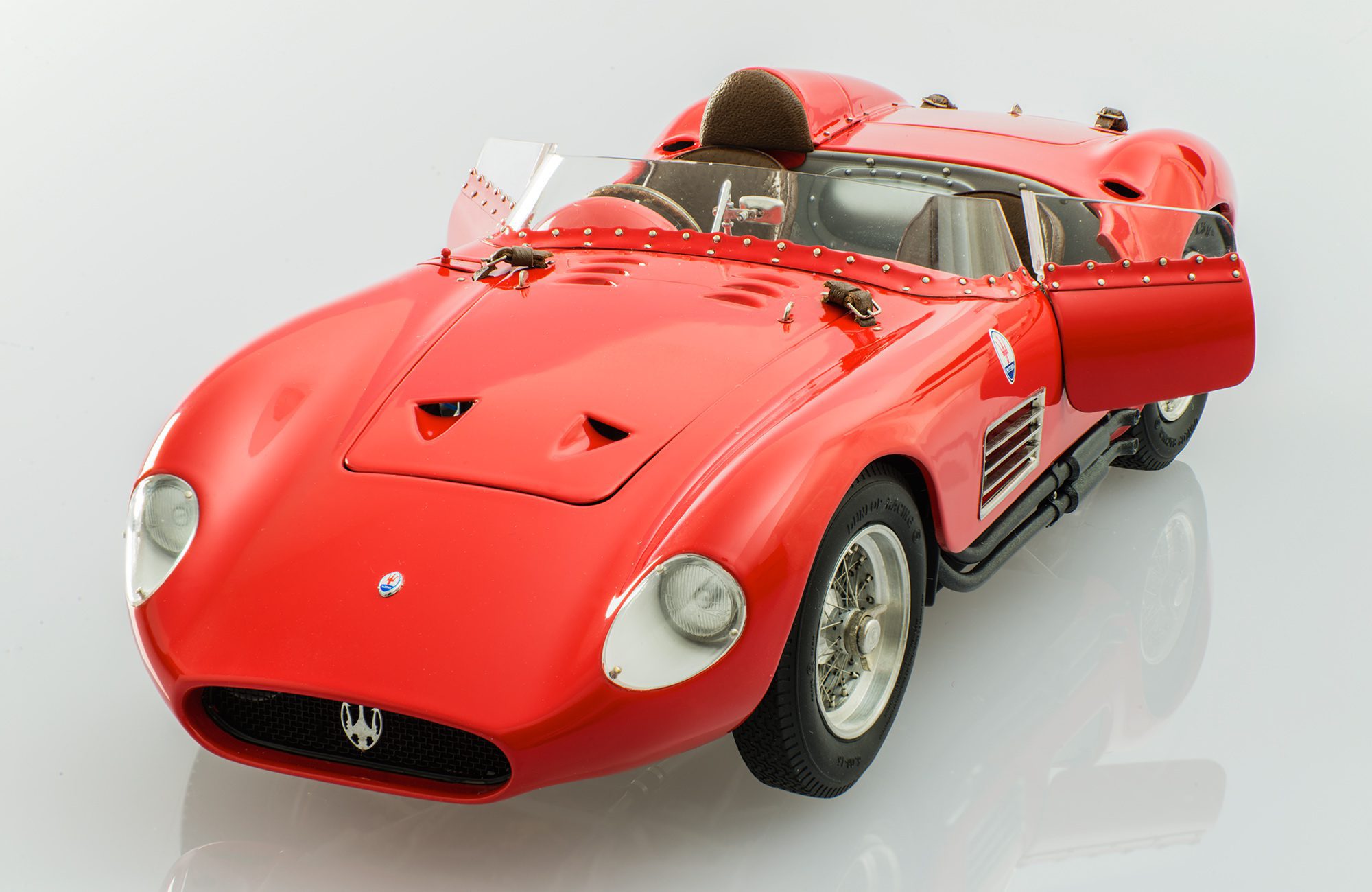 Maserati 300S
Chances are very high that if your guy loves cars, he gets weak in the knees for the Italian manufacturer Maserati. Cool and evocative, these cars are known to deliver la vita bella. The Maserati 300S features the same famous sensuous curves and beautiful shape as the original in scale 1:18.  With close to 2,000 individual parts and hand finished in the exact same paint used by Maserati themselves, this miniature replica has not compromised on any details. The exquisite interior features a wood simulated steering wheel, a detailed black dashboard with organized buttons and knobs, and brown leather upholstered seats. The tires are treaded racing Dunlops, headlights are realistic,  and the hood and trunk are secured shut with functional belting. The straight-six engine is accompanied by an engineering marvel of wiring and cabling and the undercarriage is an absolute feast for the eyes featuring the suspensions, the gearbox, rear axle, and exhaust system. This stunning model will become a treasured keepsake in any car guy's office or mancave.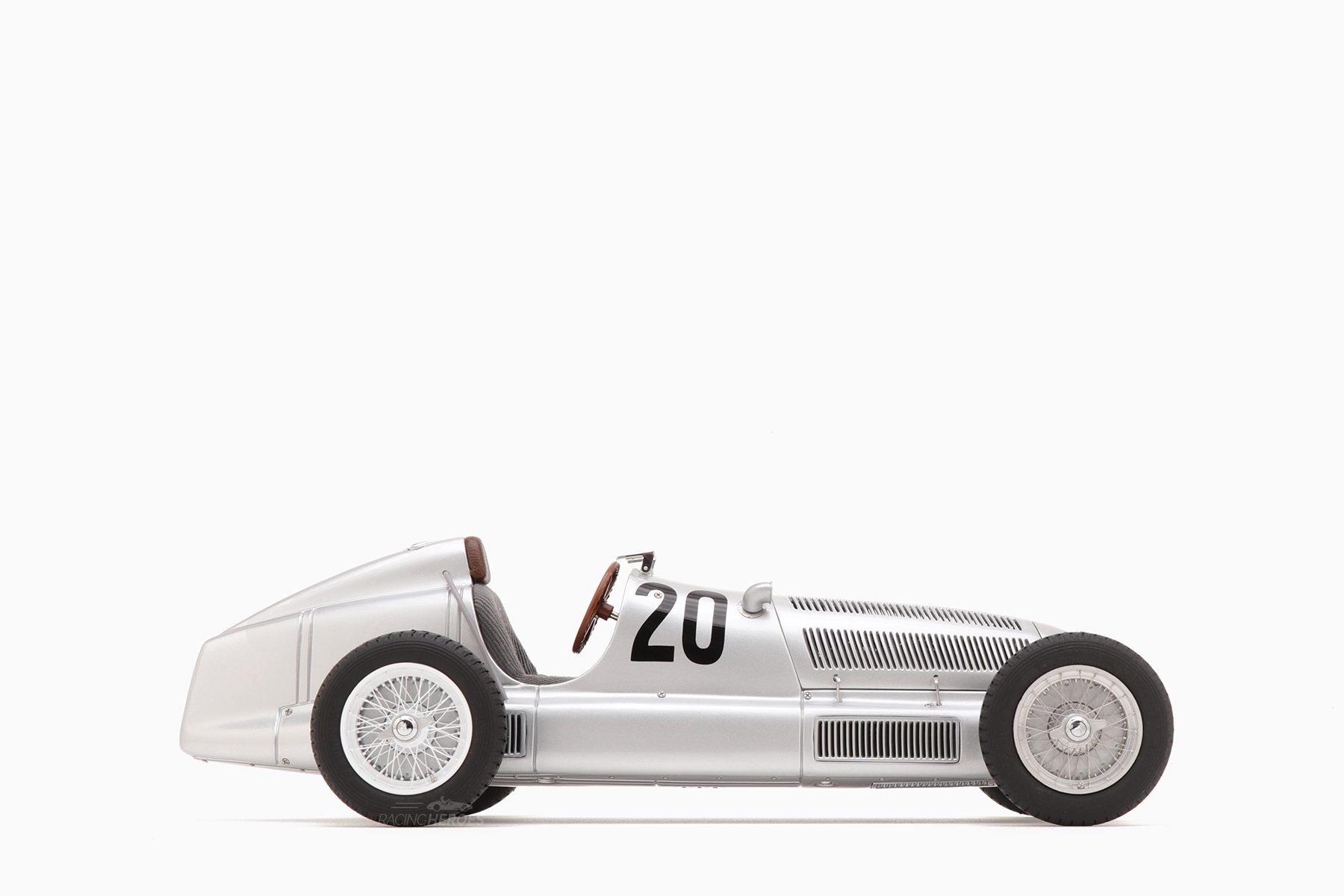 Mercedes-Benz W25
No matter which Mercedes-Benz car you choose, class is a given. These cars have been built with the utmost level of attention and thoroughness. And any Formula One fan who is fascinated by the racetrack domination of Lewis Hamilton and Nico Rosberg, will be able to appreciate the Mercedes-Benz W25, the vehicle that dawned the Silver Arrow legend.
Mercedes originally painted their race cars white, but on the night before the 1934 Grand Prix Season commenced, they found out their W25 was over the new weight limit requirements. The team hustled all night to strip the car of the paint to reduce weight, resulting in a shiny aluminum body. The following day, the car passed the weigh-in test, and Manfred von Brauchitschunder with starting number 20, drove the W25 to victory. Since this day, Mercedes-Benz has painted their race cars silver.
Our Mercedes-Benz W25 pays a storied nod to the original with this streamlined monoposto. The exterior is hand polished for a subtle sheen, the removable vented hood lifts away to reveal a well-detailed and true-to-history 8 cylinder engine,  and the nose incorporates the fine grille work and Mercedes emblem.  That's just a whiff. The cockpit includes a textile upholstered seat and a stainless steel instrument panel, the spoked filigree wheels can be mounted and dismounted, and just behind the cockpit is an openable gas cap cover. This gorgeous example of German engineering is a must-have for any Mercedes-Benz devotee.
You simply can't go wrong with any of these models
Many of the model cars are limited editions, so typically their value will continue to increase once the models are out of production.  Don't hesitate to gift one of these for the car enthusiast on your list. These miniatures are real gems that raise the heartbeats of collectors and car lovers everywhere.